The Green Workspace is an ideal venue for your business to come together and collaborate. Based in Witney, near Oxford, we have a range of stylish meeting rooms and conferencing facilities for hire to enable teamwork and creativity.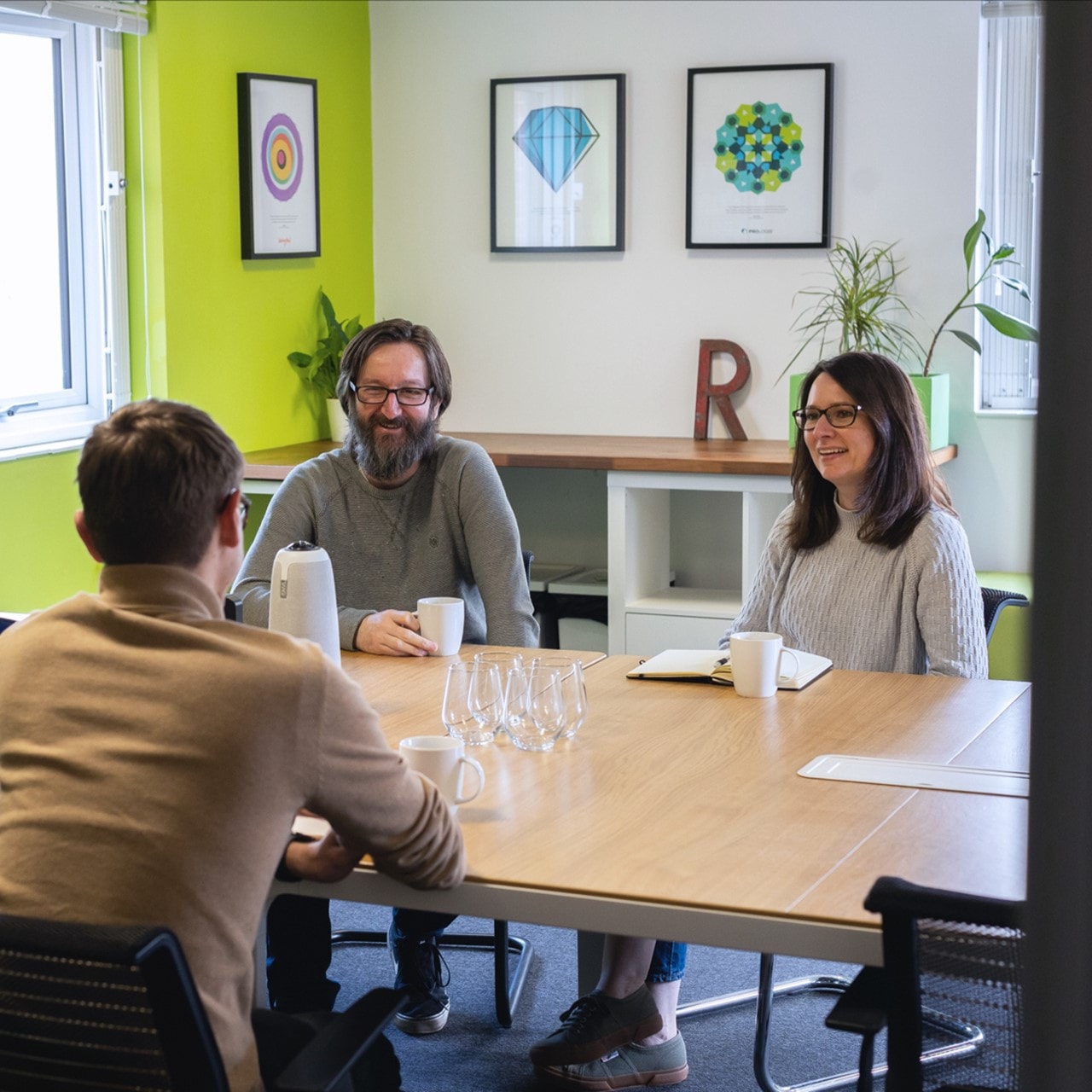 About us.
Everything you need to make your meeting time valuable.
Based in Ridgeway's Witney offices, we have a range of flexible, multipurpose meeting rooms to book that are the perfect venue for anything from short informal catch ups to all-day training events:
Fast, reliable broadband
Large TV screens and/or projector and modern video-conferencing equipment
Whiteboards and flipcharts
Free parking and EV charging points
Free tea and locally sourced coffee, with biscuits
HEPA air purifiers, and renewable supplied energy
Catering on request
The meeting room spaces.
It's all in the detail.
Cotswold location.
We're easy to get to.
The Green Workspace is conveniently located just 5 minutes from the A40 in the market town of Witney. On the edge of the Cotswolds, we are within easy access of Oxford (10 miles) and Cheltenham (30 miles). Witney town centre is a short walk away, where you'll find a great selection of shops, restaurants, and cafes, amongst various other amenities.
A40 – 5 minutes
Oxford – 30 minutes
Witney town centre – 2 minutes
Cheltenham – 45 minutes
Map
Customer quotes.
Look how great we are!
Thank you so much or the perfect venue for our meetings today. Would recommend your meeting rooms, with such a variety to suit all.
Pelltech LTD
Using Ridgeway was a refreshing experience in booking a meeting room. From the first enquiry the team were friendly, efficient, and quick in responding.
Whyte Bikes
Excellent location, meeting room and break out area. Very friendly and helpful team.
Push Entertainment
All was very smooth and professional from the moment they arrived with reserved parking spaces waiting for them to the warm welcome inside, the comfortable meeting room and the great refreshments!
Pick Pack Plus
I would like to thank you both for the excellent facilities at your meeting rooms. The day went perfectly and you had thought of everything we needed. We will be definitely using you again and would not hesitate to recommend.
Heart Solar
Frequently asked questions.
Other things to know about Green Space.
Do you have catering facilities?

As part of your booking you will have access to a small kitchenette with kettle, coffee machine and fridge. Unfortunately, we are unable to offer any facilities for cooking or heating food.

Lunch is available on request, priced at £10.00 per person to include the following: 

Sandwiches (one round per person) 
Crisps 
Fruit 

NB. A minimum order quantity of four people applies.

Can we make our own catering arrangements?

Yes, you may store food in our kitchenette fridge or arrange for catering to be delivered to our building. We just ask for 48-hours' notice of your catering plans. An additional cost may apply dependent on the level of self- catering.

Do you have wheelchair access?

Our building is accessible via ramps and our Conference space (room doorway width 76cm) and Collaboration space (room doorway width 73cm) are both on the ground floor of our building. Our Boardroom space, unfortunately, is only accessible via stairs. There is an accessible WC on the ground floor. Contact us for further information.

Do you accept bookings for evenings and weekends?

Our standard hours for bookings are between 8.30am and 5.30pm, Monday to Friday. Enquiries for bookings outside of these hours will be considered on a case-by-case basis and will incur additional costs.

Will refreshments be supplied?

Yes, we'll supply water, tea, and great, locally roasted UE coffee.

What other equipment do you provide?

We can provide flip charts, mobile whiteboard, pens, and paper. Contact us for more information.

Will anyone be in the building at the time of my booking?

Please note that our spaces form part of Ridgeway's main office building with our friendly, agency team working here daily, often including a dog or two. Should you be looking for a little more privacy, we would recommend booking our Conference space as this is a little more separate from the rest of our office, with its own entrance.

What are your sustainability credentials?

Our electricity is supplied from a renewable supplier, and we have a focus on using local suppliers, minimising our waste generally, and maximising recycling. Longer term, not only are we aiming to reduce our carbon emissions moving forwards, but also offsetting our carbon footprint retrospectively for the last 12 years.

What are your T&Cs for room usage?

Please contact us and we can send you a copy of our T&Cs.

Do prices include VAT?

Yes, all prices are inclusive of VAT.

Do you have co-working / hot-desking facilities?

We don't currently offer this facility. However, we are looking to include co-working/hot-desking in the future. Check back here again soon!

Can I use your EV charging points?

Yes, you can. However, please note that it is on a 'first come, first served' basis and will incur a small hourly fee. Please let us know in advance if you will require use of the EV charging points.

What is the minimum amount of time I can book a room for?

Bookings can be made for a minimum of two hours. Standard hours are between 9am and 5pm, Monday to Friday.

How far in advance do I need to book?

Ideally, we need at least 5 working days' notice. However, we understand plans change and sometimes you need to find somewhere with short notice. Give us a call and we will endeavor to assist with your last-minute request.